Tuition Hikes During a Pandemic? #EnoughIsEnough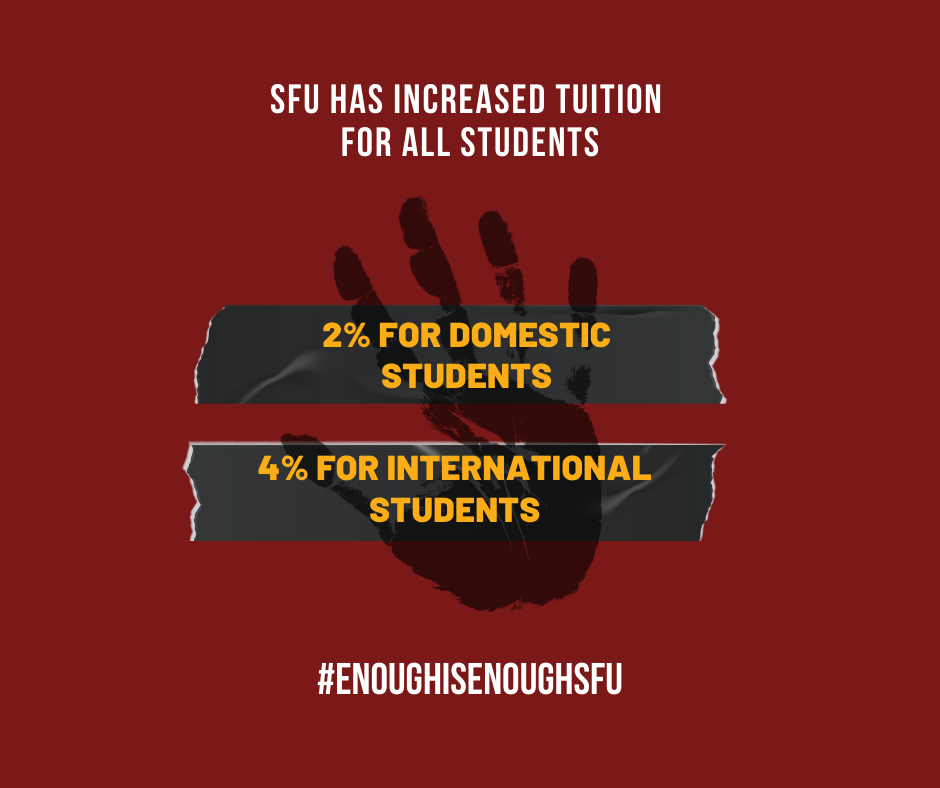 Dear SFSS member,
SFU has announced that tuition hikes will be proposed again for the upcoming year – by 2% and 4% for domestic and international undergraduates respectively, with plans to keep increasing tuition in subsequent years.
Right now, we strongly encourage you to attend the virtual information sessions and let the University know that #EnoughIsEnoughSFU, and we cannot continue to allow SFU to increase our tuition year after year, with limited tangible benefits for our students. SFU has stated that students and community members will be able to utilize the Q&A functions and ask questions verbally, and we deserve to know why tuition is being increased during a pandemic.
The budget information sessions will be happening on November 23rd, 2020 from 2:30PM-4:00PM, and November 30th, 2020 from 2:30PM-4:00PM. Links to the virtual session will be updated here.
How to participate:
Participate through the live Q&A function, or ask your questions verbally
Sign up to organize with the SFU C19 Coalition to help us organize against SFU tuition hikes
Here are some of the questions we are submitting for the Nov 23rd & 30th, Budget Information Sessions:
1. Why are you increasing tuition in the middle of such a difficult time for students?
2. Bursaries and scholarships have GPA and course load requirements that make many students ineligible to receive them. Why not support students by making education affordable in the first place?
3. Will SFU commit to the following demands made by the SFSS?
a) Commit to a tuition freeze for the the next 5 years, to account for uncertainty with COVID-19, and to allow students to financially recover post-pandemic
b) Renew efforts and commit to working with the SFSS in lobbying the provincial
government to increase operational funding for post secondary, and develop a model that is not only tied to domestic enrollment
c) Continue to provide financial relief to low-income students through bursaries,
and remove minimum GPA requirements and minimum course load
requirements for the duration of the pandemic
d) Work with the student societies throughout the budget development process,
in order to receive sufficient student feedback regarding funding priorities
Spread the word, and follow us on on Twitter, Facebook and Instagram to keep up with the campaign.