Details on upcoming award ceremony to come!
This year's SFSS Women of the Year Awards celebrates self-identified women who have demonstrated leadership and advocated for positive changes on campus and in society. This includes trans women, non-binary women, and cis women.
We are proud to present the 2021 SFSS Women of the Year Award winners. Meet the women recognized for their contributions and advocacy for improvements for the SFU community, particularly for marginalized communities: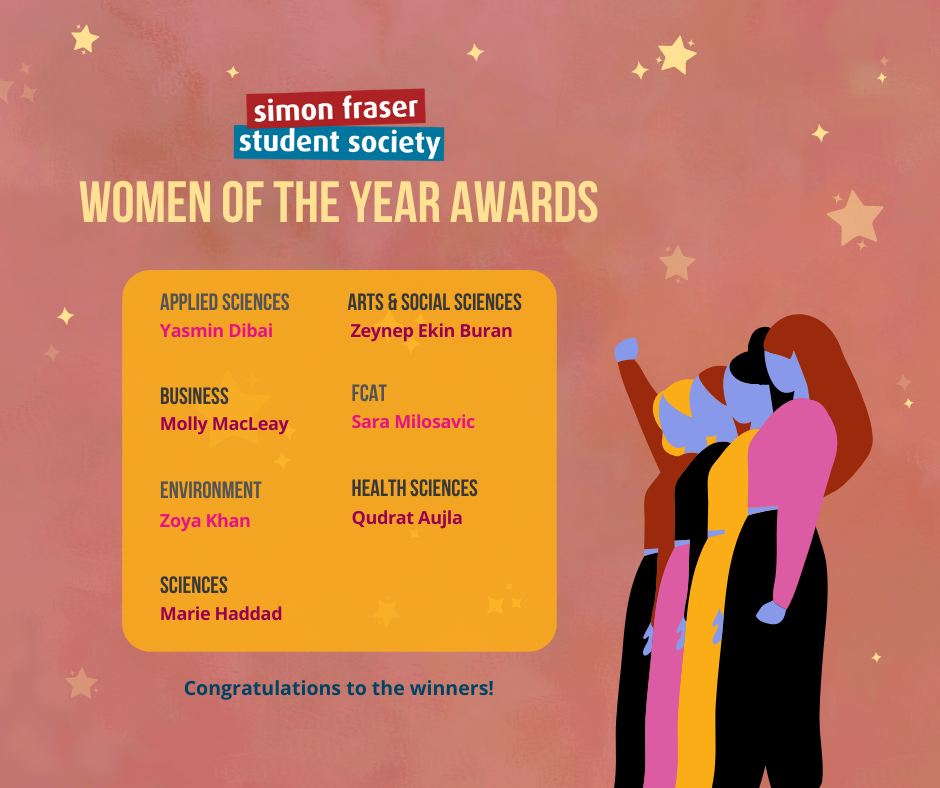 We want to emphasize that we recognize what it means to be a woman is not static. We encourage members of our community to continue to learn about and talk about gender inequality and the role that oppressive, misogynistic, and patriarchal systems continue to play in our lives. These systems and gender norms reinforce inequality and lead to violence against marginalized groups, and the need for true gender equality goes beyond International Women's Day. 
International Women's Day itself was started in the early 1900s by labour rights activists, including Clara Zetkin, who were also proponents of intersectional activism. Social categories like race, gender, socioeconomic class, disability status, and religion all impact an individual's experience in Canada's colonial and capitalist society, and these categories give rise to different forms of oppression. 
Today, many celebrate International Women's Day without truly reflecting on the intersectionality of gender and other social categories. Isolating gender as a social category prevents us from seeing how the patriarchy affects other systems of oppression, and can become an excuse to inflict harm against marginalized groups—particularly the transgender community. The issue of Missing and Murdered Indigenous Women, Girls, and Two-Spirit people has also seldom been talked about in conversations on International Women's Day. We must celebrate International Women's Day without ignoring the unique struggles of Black, Indigenous, LGBTQIA2S+, and disabled communities and advocate against oppression through an intersectional lens.
We hope to give nominees of the SFSS Women of the Year Awards a platform to speak as voices that have been historically underrepresented. We also hope that everyone who celebrates International Women's Day reflects on how to better protect victims of gender-based violence, and we encourage you to take the time to learn more about intersectionality. We have linked some resources at the end of this document to facilitate this learning so we can all reflect on our roles in dismantling systems of oppression. 
Resources
Campus groups:
This statement was inspired by the following posts: